100% Pure Argan Oil
Regular price
Sale price
15,50 €
Unit price
per
Sale
Sold out
We like to call our 100% pure arganoil "liquid gold" because of its many and multipurpose benefits. Argan oil contains a lot of anti-oxidants, vitamins A & E and omega 3 & 6, what makes it perfect to nourish, moisturise and protect your hair and skin. 
This multitasker can be used as:
Face serum: because of its many vitamins, argan oil is excellent in stimulating the skin renewal and in the prevention of skin aging and eczema. Arganoil penetrates the skin quickly and does not leave a greasy film. It is ideal to use as a daily moisturiser for your face. 
Hair serum: argan oil gives your hair a deep nourishment and will prevent splitten hair ends. It will also makes your hair shine!
Nails: because of its hydratating components, argan oil strenghtens your nails and takes care of the sensitive skin around the nails.
Anti-skin irritation: argan oil calmes the scalp and is therefor ideal to soothe psoriasis or other skin irritations. It calms burns and prevents scars.
Our 100% pure Moroccan argan oil has been selected with care. It is 100% natural and organic, without extra additives. The oil is made as part of a unique and socio-economic project that supports South Moroccan women and helps with the preservation of the trees.

All Savonke products are handmade with love in Antwerp, Silke & Annemie ♥
How to use

Face serum: add one or two drops to your face and rub in circular motions for a minute. This serum can be combined with your day- or nightcream, just add one or two drops to it.

Hair serum: put 5 drops of arganoil to your combed, wet hair and leave in for 5 minutes, then carefully rinse. Or use arganoil as a leave-in conditoner and apply it to your hair ends.

Nails: put one drop on every nail and massage in circular motions.

Anti-skin irritation: apply the arganoil to the requested zone and massage in circular motions.
Extra information

• Net content: 30ml
• Suitable for: hair, nails, scars, face, body
• Packaging: recyclable or reusable glass bottle with spray cap
• hand bottled by Savonke
INCI ingredients list

INCI: Argana Spinosia Kernel Oil*
*of organic origin, fair trade and ECOCERT certified
Share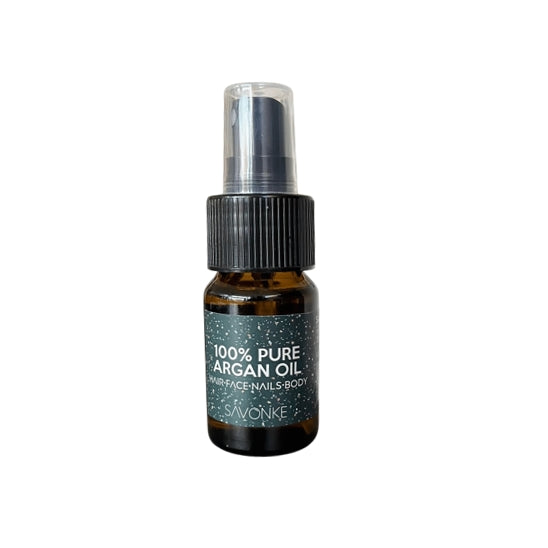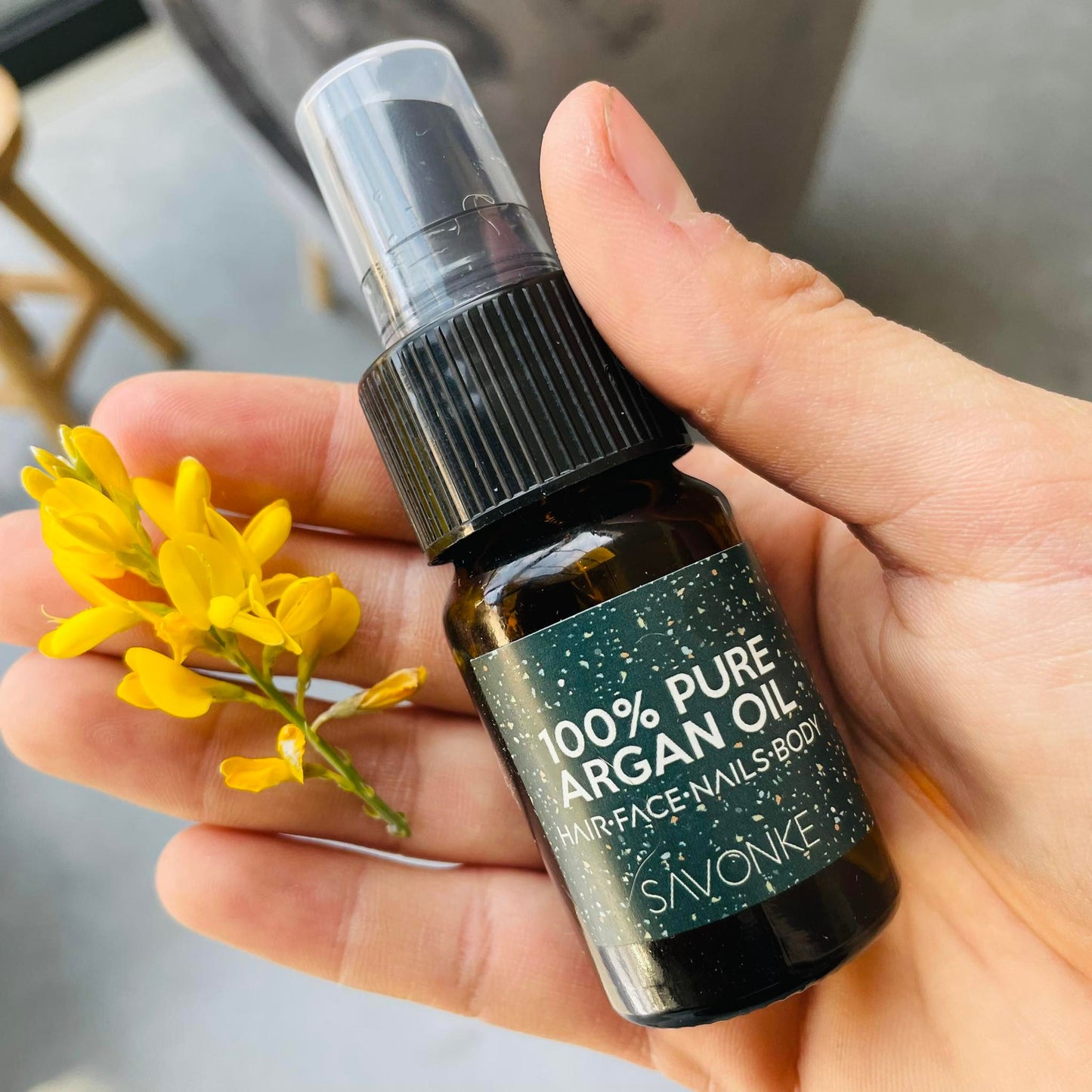 Zeer aangenaam product!
Ruikt goed maar niet teveel, is zeer zacht en appliceert goed!